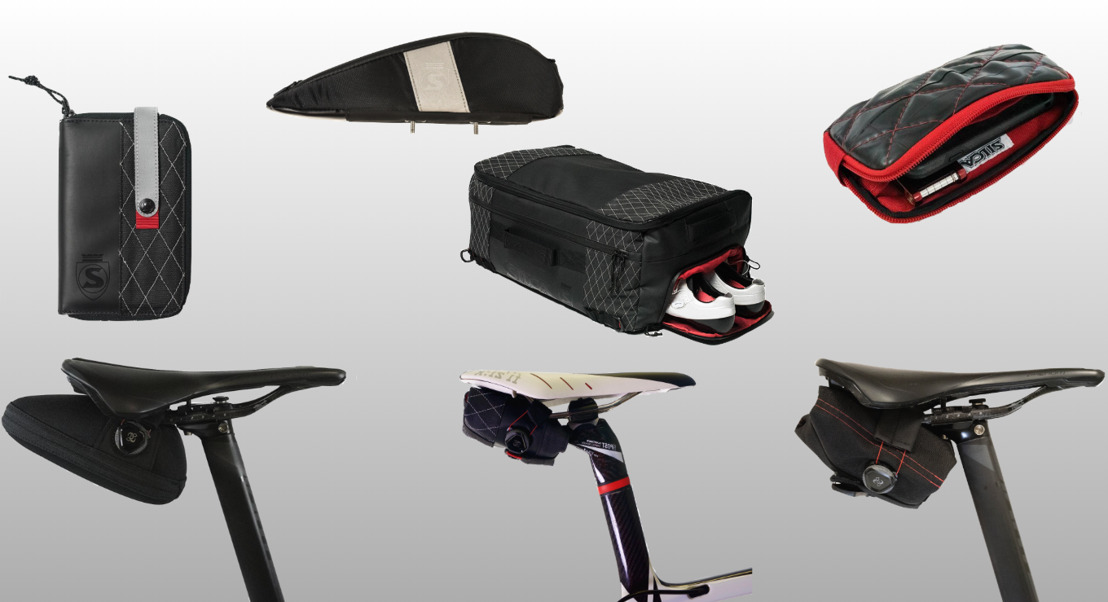 Cycling Bags From SILCA – As Dialed As Their Legendary Pumps And Tools
Borsa Americano | $45
Great for the eco-conscious cyclist, this limited-edition, sustainable and stylish bag is a simple storage solution for the daily essentials while riding. Constructed of upcycled bicycle inner-tubes and wetsuit neoprene, the Borsa Americano is designed by SILCA and sewn by Colorado-based EcoLogic Design, featuring four internal pockets of various sizes to give you plenty of storage options. The main compartment is designed exactly to the dimensions of an iPhone 7+ with case, resulting in minimal bulk or excess material, and the large inner side pocket is perfect for storing cash or credit cards, while other pockets can hold everything from your house key to patch kit.
Phone Wallet | $39
Looking for the perfect pocket-sized riding wallet? SILCA's phone wallet is sized to the height and width of a standard jersey pocket and is designed to fit an iPhone 7 with a case. Equipped with an internal dry-bag, the phone wallet raises water resistant to fully weatherproof. Each bag is hand sewn from SILCA's proprietary Waxed Duck Canvas with reflective quilting, premium weather-resistant YKK zippers, and includes a unique, high strength 3M reflective tab which wraps over the top of your jersey pocket and attaches to the bag magnetically, adding over 1500 square millimeters of reflective surface to any jersey you own!
Seat Capsule Premio | $46
The perfect medium-volume seat bag for people who don't like seat bags! Designed to suit the needs of a wide range of cyclists with a larger carrying capacity, the Seat Capsule Premio has a high-strength thermoformed shell and two internal dividers to help keep everything organized. The capsule is secured to the bike using the BOA Closure System, and features Silca's Rail Guard for superior grip and protection of the saddle rails, while allowing for easy access when still attached to the saddle.
Seat Roll Premio | $48
The world's first on-bike storage solution powered by the Boa Closure System, the Seat Roll Premio attaches effortlessly to your seat rails allowing for a lighter weight, more durable, more powerful and more adjustable attachment to the seat rails than traditional designs. The foundation of the Premio Seat Roll is a waxed canvas of SILCA's own creation. Heavyweight cotton canvas is first hot-melt waxed for water-proofing, and quilted with reflective thread for improved visibility, creating a must-have product for any cyclist.
Seat Roll Grande Americano | $58
Solid, silent, and secure, this seat roll is the perfect under-saddle storage solution for any gravel, touring, or mountain cyclist who want to reap the benefits of the BOA closure system. In addition to having a larger carrying capacity than the Seat Roll Premio, the Grande Americano uses a lower BOA system to help keep the roll in-place over the roughest surfaces, while also keeping the bag 'high and tight' under the saddle so it doesn't rub your shorts. Combined with the increased strength and tension of the vertical axis strap, the Grande Americano is an obvious choice to hold your mountain-biking essentials.
Speed Capsule TT | $34
Aerodynamic, water-resistant, and easily mounted, the Speed Capsule TT is designed around a unique, semi-rigid structure that allows it to remain stable, open and easily accessible when unzipped and smooth and highly aerodynamic when zipped. The addition of the Aquaguard zipper provides ultimate protection when the bag is used on the underside of the downtube for adventure and gravel riding, ensuring that the zipper will seal the bag from both water and dirt after hours of riding. Complete with a high-strength nylon body, 3M reflective side panels and a weather-resistant locking pull, this bag is perfect for the avid triathlete, adventure cyclist, or riders who needs snacks available to them at all times.
Maratona | $180
A versatile, weather-resistant bag for the traveling cyclist, the Maratona features an internal vented shoe bag with both internal and external access, a vented damp garment bag and internal water bottle holsters. Perfect for organizational purposes and separating dirty riding gear from clean clothes. Additionally, the dimensions are optimized to fully exploit the airline size regulations for carry-on luggage, allowing for up to 10L more internal volume than other 'Maximum Carry-On' sized bags. With three external handles and stowable shoulder straps, Maratona converts in seconds between duffel bag and backpack, making it easy to grab and adjust for traveling through the airport, the city or your next event with ease and maximum comfort.