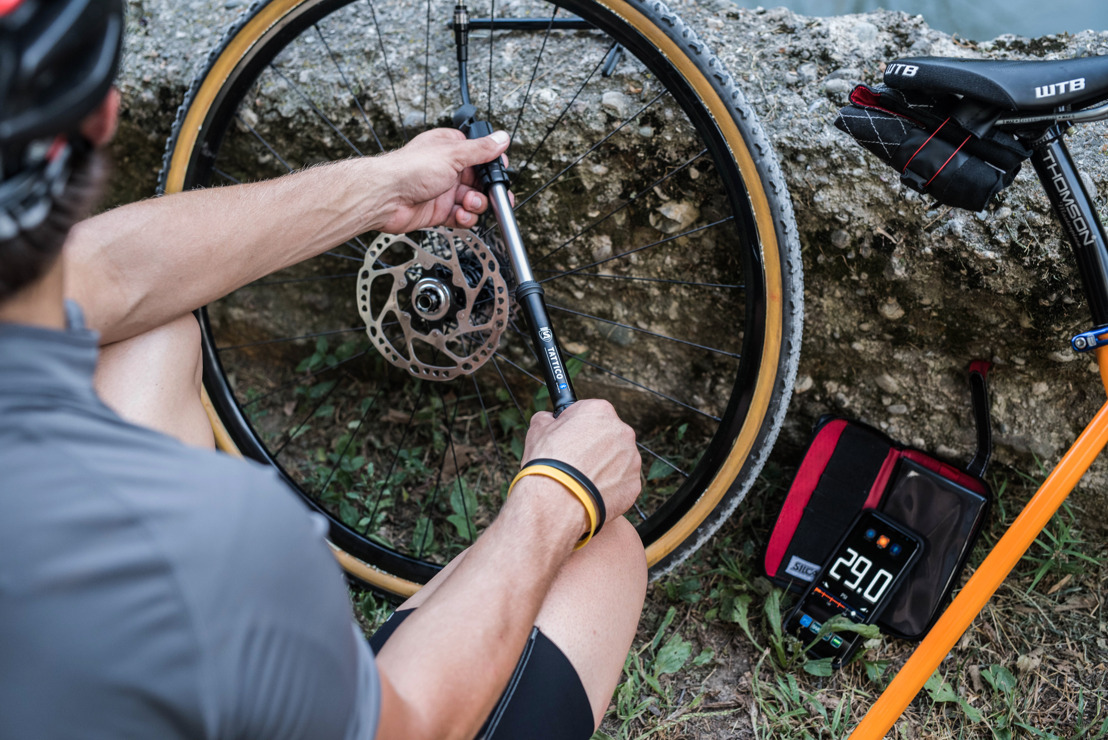 Introducing The New SILCA TATTICO Bluetooth Pump
Monday, August 21, 2017 — INDIANAPOLIS, IN. - SILCA - silca.cc - The Tattico, SILCA'S best mini-pump for Every-Ride-Carry just got even better with the addition of Bluetooth® technology. TATTICO Bluetooth® solves the problem of getting a reliable pressure reading out of a mini pump on the road by using a Bluetooth pressure sensor that relays accurate tire pressure through an app on your phone. Now you can finish your ride without second-guessing how much pressure your tire has. This mini-pump is a game-changer for endurance, gravel, and riding that often takes place far from support. Rated to 120psi, TATTICO Bluetooth can even take the place of a floor pump while bike-packing, traveling, and other remote rides.
Accuracy and durability are two pillars of the SILCA brand and after recognizing the limitations of current mini pumps, SILCA decided it was time to innovate. The TATTICO Bluetooth® mini-pump solves the accuracy and durability issues of other mini-pumps by taking the physical gauge out of the equation all-together and transmitting it through an app called iGauge directly to your phone. The TATTICO's original inverted design allows enough room to place a Bluetooth pressure sensor at the end of the barrel which transmits the data as pressure fills the chamber of the barrel. This simple integration allows the TATTICO to keep the same size, profile, and capability of the original pump while providing an accurate reading within +/- 2%.
Ever since their inception, mini-pumps have been a blessing and a curse for fixing flats on the side of the road. The new Bluetooth enabled TATTICO by Silca addresses all the shortcomings of the mini-pump and turns it into the ultimate roadside savior.
TATTICO Bluetooth Features:
Inverted Design: Hidden hose and valving results in 10% more air per stroke

Powerful: Rated to 120psi

Efficient: SILCA Adaptable Cup Seal Expands with Heat

Cooler: Hidden Heat Sink Controls Temperature while pumping

Accurate : Pump Accuracy is +/- 2%
TATTICO Bluetooth Specs:
Seamless connection to iGauge mobile app for clear, accurate pressure reading

6061 Alloy barrel and gripping surfaces

High-efficiency piston design

Long extractable filler hose with locking presta/schrader chuck

Maximum pressure 120psi

9-1/2" length

Includes direct-mount backed with retaining strap

Easily replaceable CR2030 battery

MSRP : $120
Using iGauge
Download iGauge app from Apple iTunes or Google Android apps

Engage TATTICO pump head on the valve stem and move the valve lever to the lock position

Start the iGauge app on your mobile device

The app will indicate "SEARCHING"

Begin adding air to the tire. This will wake the Bluetooth transmitter and sync with the mobile device

Continue pumping until you reach the desired tire pressure

Closing the app and storing the pump will put the Bluetooth transmitter in hibernation